At long last Psychology News is live. We have produced our first ever all digital publication, and first publication at all since 2018. We are very excited to share the hard work of our writers and other members of our team. We would really appreciate you taking a look and sharing the link with anyone who might be interested.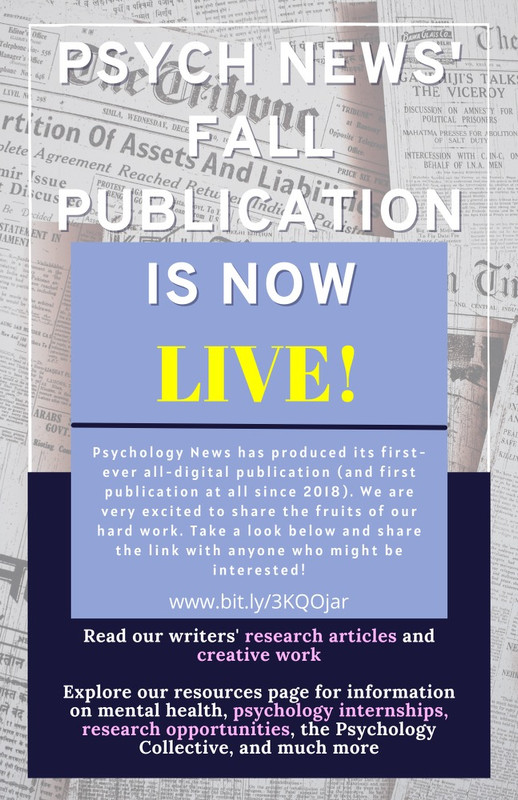 Click here to view our publication: Psychology News, Autumn 2021

Thanks for checking out Psych News. We are the official semesterly newsletter of the Psych Collective. As such, we aim to educate Hunter's community in all things psychology. Psych News provides a platform for student writers to help with that education; we give voice to student and faculty research, and whatever else student writers are interested in—the brain, mental health, social cognition; you name it!
Last semester we reintroduced the newsletter to Hunter after a few years of inactivity. For the first time ever, we hosted a blog on the website, which we will continue to update periodically. This semester (Spring 2022), we will conduct much of our business and host many events in person.
To participate, please reach out to us at psychnewshunter@gmail.com or, better yet, ask a question in our Discord channel (#psychnews) so that all can learn from the exchange. If you haven't joined the Psych Collective's Discord server, please e-mail us for the link. We also keep in touch with members via WhatsApp.
For detailed answers to a list of frequently asked questions, please check out our FAQ tab.
If you haven't yet checked out our flyers calling for submissions and editors, check them out below. We include additional information of interest there, such as why to get involved (writers can acquire an additional listing on their resume and both writers and editors can boast of their work on resumes and applications!) Note that these flyers are from the Fall, but the basics remain the same.